Visteon Restoration Progress Report
Updated Jan 2009
The Visteon car is complete apart from installing the Motec Dash data acquisition system and the Ohliens TT44 dampers. I've got the empty dampers in for mock up to properly fit the car. I have a Motec Dash 2 which has an expaned template for the serial port and can accept the XD data stream without an intermediate adaptor board. This makes for a much cleaner installation.
Here is a picture from a car show mid-January 2009.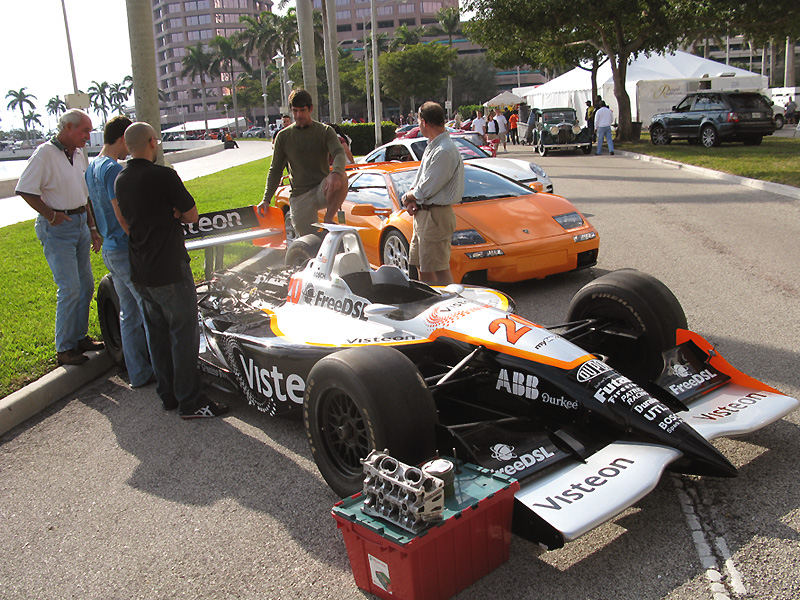 The following pictures are from the Visteon ChampCar restoration. The suspension arms were crack tested and painted in epoxy. The gearbox has been fully crack tested and assembled with road course gearing. The engine (XD) is fresh from Cosworth.
Lance Laughin of Freelance West did a great job modifying the original 96 headers for the newer XD mail slot style ports. See XD engines to understand the need for this modification. The headers, waste gate Y pipes and turbo inlet Y pipe are all installed making for a complete exhaust system. The communication section of the Motec harness is done awaiting the dash.
The waste gate valves have been installed and the car is awaiting fire up and set up for its first shake down as a historic racecar.
---